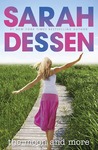 The Moon and More by Sarah Dessen
My rating: 3 of 5 stars
Emmaline lives in the beach town of Colby where it seems like she is nothing but a face in other people's stories and holiday memories. Emmaline has been with her boyfriend, Luke for practically forever. They're a great match. Almost perfect.
But things start to change in the summer before Emmaline goes off to college. Her absentee father returns with his son (and some secrets) while a visitor from New York, Theo seems taken with Emmaline.
While Luke is small town, Theo is ambitious and showy. Nothing like the life Emmaline knows but Theo represents the life she could have…If she only chose to move out of Colby.
This was a wonderfully written novel about growing up and finding your identity. Emmaline is a girl from a small town who longs for something more than her ordinary life. However when that something more is given to her, she isn't so sure anymore if it is what she wants. I recommend this book to anyone who is looking for a contemporary read or a sweet family story.