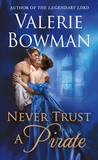 Never Trust a Pirate by Valerie Bowman
My rating: 4 of 5 stars
The first Playful Brides book I ever read was Daphne's story (The Irresistible Rogue) and while there have been more than a few books released since then, I've always wondered what happened to Cade.
Apparently the mysterious Cavendish brother has moved in with Rafe and spends his nights out doing…something.
Danielle is a spy who has been hired to keep an eye on Cade but it isn't long before an attraction sparks between them. Cade is supposed to be Danielle's last job and the key to her freedom and a life of normality. So no matter how attractive she may find him, she has a job to do if she wants to get out of the business of espionage.
While I always like Valerie Bowman's writing, I felt like this book was special to me since it reminded me of The Irresistible Rogue (of course, seeing characters from that book didn't hurt matters eithers). All the spying, lying and disguises reminded me of The Irresistible Rogue and made this book different from the others in this series.
This book was well-written and entertaining. I can't wait to read more of this series and I especially look forward to seeing more of Daphne's younger cousin (hopefully in a story of her own).